---
Manufacturer:
Big Truck Locks
Returns:
30 days w/ 20% Restocking Fee
---
Shipping Guide
---
Includes:
Battery Locking Bars (Choose From The Selection)
A Set of 2 Keys w/Choice of Keying Option (for Multiple Locks)

Keyed Alike (Click Radial Button)
Keyed Differently (Default)

Optional

Pair of 9" Anchor Bolt Set with Nuts and Washers
Pair of High Strength Steel Sleeves
---
Other Photo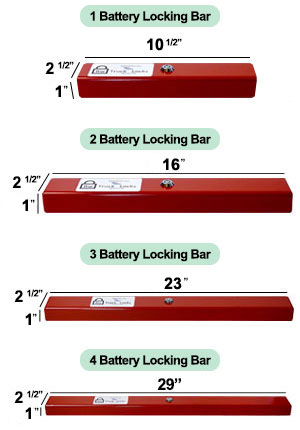 ---
Freightliner Cascadia, Century and Columbia Battery Locking Bar
---
Isuzu Mitsubishi GM and Hino Medium Duty Trucks Battery Locking Bar
Very easy to install. Simply remove the top hold down frame on your battery and replace it with the Battery Lock, using your original Anchor Bolts.
Secure your Battery from Thieves! Install these battery locking bars to ensure protection of your batteries. Each locking bar is precision cut from 1/8-inch steel. The lock is equipped with a spring loaded bolt adding strength and a self-locking feature. It also comes with 7-pin Tubular Security Lock w/ over 7500 Possible Combinations.
Keying to Previous Order:
Note: Always refer back to your first lock order so all new orders will be keyed to that first order. We will try to check that your keying instructions are correct, but this is only a courtesy. You are still responsible. DO NOT USE YOUR KEY CODE.
To Key your lock order to the same as your previous lock orders, you must choose Keyed Alike and write, "Please Key to Previous Order RC########" (where ######## is your 8 digit sales Order Number of your first lock order) in the Customer Msg box.
---
Other Features:
Heavy Duty Battery Lock Bar
Battery Lock Kits For Cascadia With Batteries Under Cat Walk

Works on Truck or Construction Equipment w/ a Single Battery

Battery Lock Kits for Isuzu Mitsubishi GM and Hino

Works on Isuzu Mitsubishi GM & Hino w/ Two Batteries

Includes (2) Keys, (you can order keyed alike for fleets)
Precision Cut From High Quality 1/8" Steel
7-Pin Tubular Security Lock w/ Over 7,500 Possible Combinations
Spring Loaded For Added Strength & Security
Easy To Install
High Quality American Made Product
---
Demonstration of Anti-Theft Battery Locks (1.11 Min)
Installation of Anti-Theft Battery Lock Bar (2.58 Min)
Battery Lock Installation (5.11 Min)
Isuzu Mitsubishi GM and Hino Battery Lock Installation (4.50 Min)
Freightliner Cascadia Battery Lock Installation (1.22 Min)